TOEFL
TOEFL(Test of English as a Foreign Language) is an internet based test(IBT) admission seekers into universities in the UK,Canada,Australia and New Zealand are required to pass before they can be considered for admission.TOEFL isn't exactly a tough test,it is rather an easy test with technical questions that require adequate preparation.TOEFL tests comprise of the writing,listening and multiple choice sections.Baltidon Consulting offers TOEFL registration and training that guarantees you a high score.
TOEFL Registration and Training
Foremost in TOEFL Registration and Training is Baltidon Consulting.All TOEFL test takers who have trained with us all scored high,and have gone on to get admission into their choice universities across Europe,the UK,Canada,Australia,New Zealand.
Basic requirement to register to take the TOEFL test is a valid international passport.TOEFL can be written by both migrants who seek to work in Canada,the UK,Australia, and New Zealand.In some cases TOEFL is a suitable replacement for the IELTS.
TOEFL Training(Score high with Baltidon!!)
Just as the name implies,TOEFL is designed to test the English language proficiency of prospective students.It involves an aptitude test(multiple choice) and also a listening part where the test taker is required to answer questions based on a conversation between native speakers of the language.You might think,well i'm able to watch English movies without subtittles so that shouldn't be a problem.I tell you,it goes way beyond that and you will want to avoid the hidden pitfalls,designed to make you stumble.
Baltidon Consulting offers a three course meal regarding TOEFL Registration and Training with our seasoned experts tutors and state of the art learning facilities,learning aids and freebies.Our failities includes but is not limited to our fully air conditioned 180-seater lecture halls which doubles as our test centre,projector aided learning with listening aids.Some freebies that come with this are listed as you read on.
Our promise is to be the BEST… As always.
[space height="30″ ]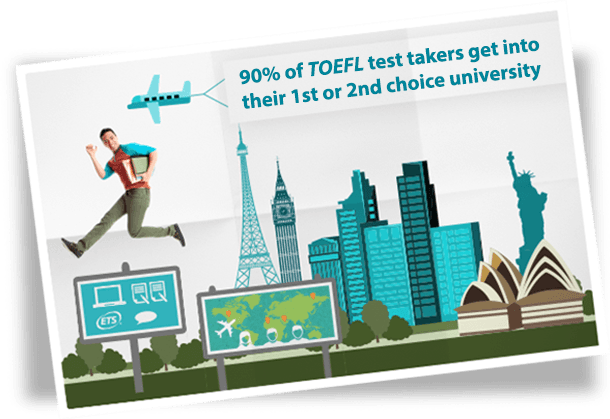 [space height="30″ ]
Visit us today at Baltidon Consulting Limited.
No 20 Muibi street off Ajayi road
ogba Lagos, Nigeria.
TWEET AT US
[space height="30″ ]
We have a 100% success rate.All admission seekers who enroled for TOEFL Registration and Training with Baltidon passed the test excellently and with our help went on to secure the admission they sought.We have a network of partners(Universities and Colleges) around the world and we are directly affiliated with many,more than enough to make your international education dreams a reality. The latest testament to the quality of our services is the International Quality Crown Award, London, United Kingdom.
[space height="30″ ]
REGISTER with Baltidon Consulting and get five freebies that sets you up for a perfect TOEFL score!
[space height="30″ ]
1. FREE KAPLAN Textbook with CD Rom: Get the updated version of the Kaplan TOEFL textbook, with CD ROM both free.Only your N45000 registration fee qualifies you for this. This will be delivered to you anywhere you are in Nigeria. Office pick up is also available.
2. FREE TOEFL Online Prep Course: The TOEFL Online Prep Course which has helped our students achieve over 100 on their TOEFL scores, is an online tutorial that helps you build the skills you need for success on the TOEFL test. You get a Personalized Learning Path created by using the results of diagnostic pretests taken at the beginning of each skill section. Your Personalized Learning Path focuses on the specific skills where you need improvement and allows you to complete lessons at your own pace. Post-tests evaluate your progress in each skill area. The course helps you improve your skill levels in reading, listening, speaking and writing – the 4 skills measured on the TOEFL test. You get this FREE with your registration.
3. FREE Intensive Class Based Lectures: Register for the TOEFL today and get to attend the TOEFL classes at our ultra modern training facilities. Our lecture halls come with learning aids and they are A.C tight, so you can learn in a conducive environment.
4. Lowest Test Registration Fee: Registration with us costs only N45,000,the cheapest fee around.
5. FREE Counselling: Get the best counselling with regards to your test prep and study abroad options.
6. Free Online mock testing: You get a free online mock test that imitates the actual test to aid your preparation.